Hi curlies,
Today's topic was requested, so we're going to talk about hair loss and how to restore it. I'm one of those people who have noticed that my hairline wasn't looking as full as it used to, especially when I was relaxed. So we're going to explore how to prevent hair loss and how to reverse it.
Note: Something to note is that one reason my hairline now looks thinner is that my relaxed hair was a lot thinner than my natural hair. As a result, my hairline looks thinner than the rest of my hair by comparison. A few pictures should be able to tell you whether this is the case and you may not have anything to worry about.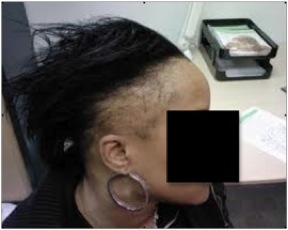 Prevention
Trying too hard to get your edges 'on fleek'- I think you all know what I mean. Gel, edge control, pomade and brushing your hair to reach that slick effect that makes your hair look 'neat'. It's not necessary, and overdoing it can give you permanent hair loss not just on your edges, but the whole hairline. If you really need your hair to be smooth put a bit of product and tie a scarf overnight for for an hour for smooth edges without the mechanical trauma.
Protective styles – most styles with hair added tend to put a strain on your hairline. Braids, weaves and even cornrowed styles can wreak havoc if done too tight, if too much hair is added, it it's left on too long etc. I think this is the worst culprit, everyone has seen the pics of Naomi Campbell with no front hair whatsoever and it's not just her that has suffered from it. To avoid this hair nightmare, you need to tell your hairdresser to take it easy when they are doing your hair. They need to gently manipulate it so it doesn't fall out at the roots. This kind of damage can be permanent so it's good to watch out for this.
Treatment
Jamaican Black Castor Oil – Massaging in room temperature or warm JBCO every morning and night has been known to help restore edges. Oils such as peppermint and rosemary are also known to stimulate hair growth and can be added to the castor oil to improve it's potency. You could try doing this less frequently if you're a bit short for time.
Raw onion juice – Blend finely chopped onions and with water and rub on your hairline every night. This method is very smelly and may not be suited to a lot of people, so I would suggest this as on overnight pre-poo the night before your wash day.
Honey, castor oil, olive oil and an egg yolk may be your ticket to full edges. Using this as a pre-poo will help to grow back your edges.
There you have it, tips to help you grow out your lost hairline, I hope this helps!
Simi
X